e-Edition: January 2018
FIGHT ON ROUNDUP USE INEU SETTLED
By Valentina Pop, Wall Street Journal 11/28/2017
Glyphosate is an herbicide invented by Monsanto Company, and is marketed under the brand name Roundup. The World Health Organization's International Agency for Research on Cancer found that glyphosate has the potential to cause cancer in humans. However, the European United nation's chemical agency dismissed these claims. The conflicting conclusions of glyphosate's impact on human health led to a multi-year dispute among the EU concerning the approval of its license. On November 27, the EU approved a five year license renewal of the herbicide. The approval was granted due to Germany's support, which came as a surprise and is said to have been produced out of political disagreements between representatives of the country.
By Ashley Seitz Email: aseitz@rtenv.com
UNIVERSAL WASTES IN OHIO
Ohio EPA's hazardous waste program has prepared a package of proposed hazardous waste management rules pertaining to the classification of certain hazardous wastes as Ohio-specific universal wastes. The new universal wastes include hazardous non-empty aerosol cans, hazardous antifreeze, hazardous paint and paint-related wastes. The public comment period will run until October 17, 2017. A public hearing on this proposed rulemaking will be held to consider public comments in accordance with Section 119.03 of the Ohio Revised Code. This hearing will be held at Ohio EPA, 50 West Town Street, Columbus, Ohio in Conference Room A, on October 17, 2017 at 10:30am.
The commission is set to renew the 5-year license before December 15, when thecurrent license expires.
Environmental groups and Green politicians reacted angrily to the news.
(by Valentina Pop, Wall Street Journal,
11-28-17)
PIECES OF NY'S TAPPAN ZEE BRIDGE FIND NEW LIFE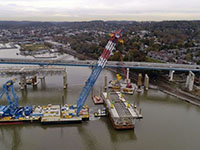 Steel and concrete panels that were once part of a mighty bridge that carried 50 million vehicles a year across the Hudson River north of New York City will find new life spanning streams along sleepy country roads.
With traffic now whizzing across its shiny replacement, the 61-year-old Tappan Zee Bridge is being painstakingly dismantled in a process that will stretch into 2019. Barges haul sections upriver to Albany and downriver to Perth Amboy, New Jersey, where ground-up concrete will be sold for highway construction and steel will be melted down and recycled.
Some pieces of the old bridge will escape the crushers and furnaces and be trucked to upstate towns looking to save thousands of dollars on their own bridge projects. Those parts include some of the 2,000 steel-and-concrete deck panels. New York's Thruway Authority offered 150 to local governments for the bargain price of $1 apiece when the Tappan Zee project began four years ago, but only 135 met specific local requirements were spoken for. The demolition contractor will disassemble and peddle the rest.
"We're estimating it will save us about $100,000 per bridge," said Jim Dougan, deputy public works superintendent in northern New York's Essex County, which may build up to five bridges with the dozen pre-fab panels it requested. "For a county with about 38,000 residents, that's pretty important."
Seven other counties also requested some of the 50-foot (15-meter)-long deck panels, which are still considered to have plenty of life in them since they were part of a major upgrade of the bridge that was done from 2007 to 2011.
Essex County's plans include using two panels to span a creek along a gravel road in the tiny hamlet of Ironville, a national historic district near Lake Champlain that bills itself as the "Birthplace of the Electric Age." In 1831, an electromagnet now housed in the Smithsonian was used to pull iron from ore there.
Livingston County in western New York is stockpiling six of the Tappan Zee panels, just in case.
"We don't have specific locations for them," said that county's highway superintendent Don Higgins. "We just want to have them in stock when something comes up."
While reusing panels from big projects like the Tappan Zee is uncommon, it's not unheard of. Allegany County, along the Pennsylvania border, got 33 panels from Boston's infamous "Big Dig," a highway and tunnel megaproject completed in 2007. Public Works Superintendent Guy James said the county has put in for six Tappan Zee panels, which will likely be used to replace bridges along dirt or gravel roads.
"The Tappan Zee had 140,000 vehicles per day," James said. "Here, the panels will go on roads that might have 100 cars a day. They should serve the rural population very well."
James was hesitant to take the panels at first because of their weight, 43 tons (39 metric tons).
"We'll have to make sure our bridge supports can handle them," he said. But he foresees no problem trucking the panels to the county's construction stockpile.
But, he foresees no problem trucking the panels to the county's construction stockpile.
In most cases, people will never know they're driving over a segment of the famous Tappan Zee Bridge connecting suburban Rockland and Westchester counties 25 miles north of New York City.
But, in some places they will.
Chemung County Supervisor Tom Santulli envisions a sign or plaque identifying panels that may be used to replace several bridges over a meandering trout stream.
"It's kind of neat to have pieces of the Tappan Zee," Santulli said. "It's a piece of history; when they built it, it was quite a feat."
(This story can also be found on Construction Equipment Guide's website at www.constructionequipmentguide.com)
(Construction Equipment Guide –
11-29-17)
RT has helped many contractors undertake beneficial use of materials at hundreds of construction sites. The NY Thruway Authority gets it right – materials reuse is good for the environment and cost savings at the iconic Tappan Zee Bridge. A job being well done!!
Gary R. Brown, P.E.
President
RT Environmental Services, Inc.